Streamlining the processes of Japanese Buying, Logistics and Imports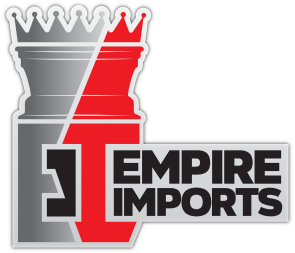 Empire Imports was started to provide reliable and cost-effective access to Japanese vehicles and automotive parts in New Zealand. As avid car enthusiasts ourselves, we saw there was a real need for this service. We have been able to design the business to avoid any flaws we saw through our own importing experiences in the past, and as a result we offer an efficient, streamlined service.
Our goal at Empire Imports is to make the process of purchasing vehicles or automotive parts from Japan as easy, stress free, and affordable as possible for our customers.
Empire Imports is here to make your life easier. If you want to buy a vehicle, part, or anything else from Japan and get it back to New Zealand, we can help with the entire process.
We will bid on products from Japan on your behalf. If you are successful we will communicate with the buyer and organise payment, arrange delivery to our depot in Japan, and organise all logistics to get your product to New Zealand.
We organise all of the logistics and customs for you. Parts are shipped to New Zealand in one of our containers. We use our own containers so we can offer flat rates for shipping at a fraction of the normal cost. Once the goods are in New Zealand we can get them delivered to your door or you can pick them up from the depot in Auckland.
If you have found your dream vehicle in Japan, or want help finding one then contact us directly to discuss. We can provide you with a tailor made solution to help you locate, purchase and ship any car to New Zealand. We have access to all the major auction houses in Japan. Let us know what you are looking for and we can hunt it down for you.
Order now and get the process started.
You can find useful links and places to look for things to buy on our FAQ. If you have found something you are interested in you can use our calculator and order form to get the process started.
Frequently Asked Questions
Where can I look for parts?
How do I buy something?

Use our getting started guide (Yahoo and Upgarage) to find parts for sale. You can find these guides in the Order Section
Use the order form to place your bid.
If you win, great! We'll email you to confirm you won within 48 hours, and you'll receive an invoice for the additional charges when your item arrives at our yard. Didn't win? No problem, we'll refund you within 24 hours.
Your item is loaded in our container when it's ready to ship, and sent to NZ.
Once your item lands in NZ, we ship it to you or you can pick it up from the freight depot in Auckland.
How much does it cost?

We charge a 20% commission on each item ($25 minimum), and a flat rate fee based on the item size. For example, if you buy a steering wheel for $100, your total cost shipped would be:

$100 (Steering Wheel)
$25 (commission)
$30 (Japan freight)
$40 (Shipping to NZ)
$29.25 (GST)
Total: $224.25

Our cost calculator will give you a good indication of costs involved, for a vehicle please contact us directly for a quote.
How long before I will see my purchases?

Containers come by sea, so expect longer shipping times than by air. We try to ship a container approx every 6 months, or as soon as the container fills. The more parts you buy, the faster the containers come in!
Can I buy new parts?

Yes, we can purchase new parts from any manufacturer in Japan. Send us an email with what part you're looking for, and a part number if possible.
I can't find what I'm looking for, can you help?

Sure. If you've read through our getting started guide and still can't find something, 

send us an email

with what you're looking for and we'll get back to you as soon as we can with a link to a search for it.
Will I have to pay extra for any taxes?

No, any GST, customs, duties or taxes will be taken care of by us and are included in the cost we charge so you don't have to worry about a thing.
Can I get a better rate if I buy multiple items?

Unfortunately no. Because our shipping is calculated by volume of the container, the shipping costs of anything you buy has to be charged according to its size.
We help you with the entire process